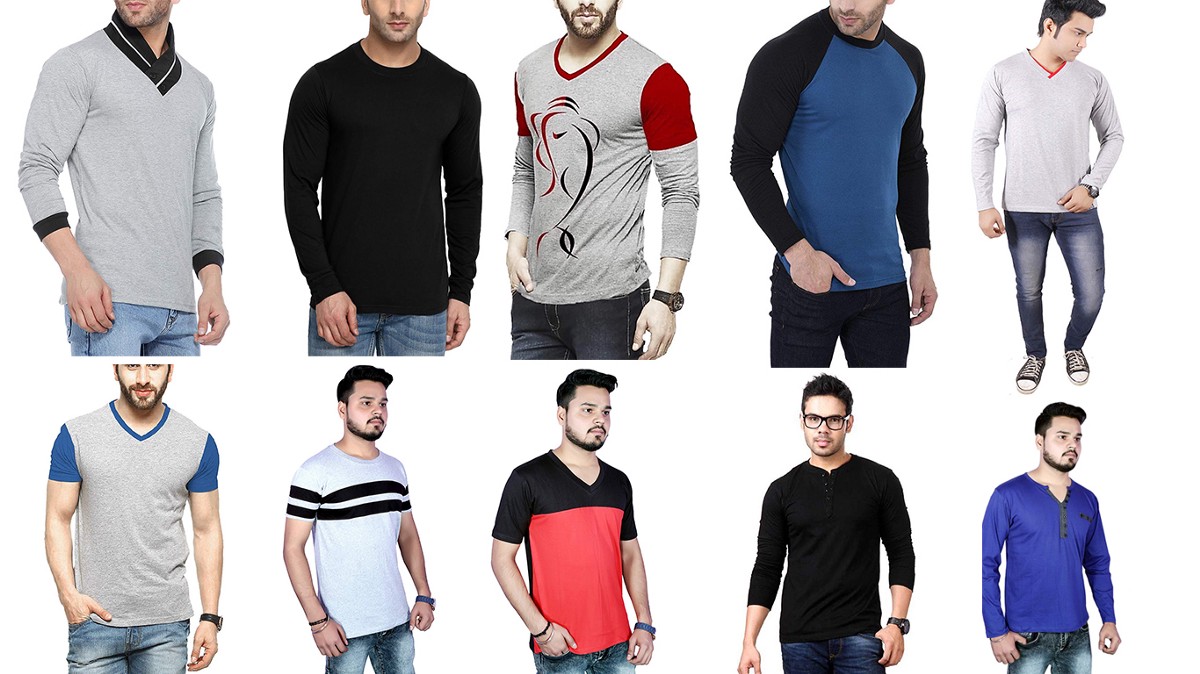 Crew neck t-shirts are still the most popular clothing item since they are the most comfortable. There is a wide range of t-shirts in various hues and fashions. Men always look for the same colour t-shirts which they already have. But adding varieties of styles and a collection like Crew neck t-shirts to your wardrobe will enhance your personality. The cause of this fashion gaffe appears to be a lack of knowledge about how to choose a trendy t-shirt. However, it's not that difficult. Pairing your t-shirt with jeans, pants, chinos, footwear, and accessories will make a great outfit for you.
Here are a few must-have styles of t-shirts for men.
1- Crew neck t-shirt
Often worn under other garments, a crew neck t-shirt has a round neckline but no collar. It is an excellent casual piece, but it also looks great. If you enjoy wearing this basic outfit, you might as well get good at dressing for it. Here are some styling suggestions for this T-shirt: For an Iconic Look, pair slim-fit blue jeans with them. For a casual look, pair slim-fit black chinos. With a Casual Shirt with No Button for a City Slicker Look. With Athleisure Clothing for a Cosy Feel. Keep in mind to be imaginative when wearing crew-neck T-shirts.
2- Henley t-shirts for men
Henley t-shirts typically have a neckline that is airy even on hot days and are too soft and stretchy. Henley embraces the masculine shape just well, showcasing those great biceps and a big chest because the fabric is typically thinner. On their own, henleys look fantastic with a pair of jeans, chinos, or cords. Put on a straightforward cotton hoodie to enhance the look of a casual outfit. Henleys go particularly well with bold pieces like leather jackets.
3- Polo t-shirts for men
Polo T-shirts for men are a fashion item that never goes out of style. By adding components to it, you may easily dress this to replace a plain T-shirt with something more exciting. In the summer, polo shirts are a fantastic option for men. Polo collar t-shirts are regarded as casual clothing but can also be worn smartly. At least keep a collection of simple colours like blue, black, and white. Then, depending on the situation, feel free to tuck or untuck the t-shirt. Wear your polo t-shirt with chinos, jeans, shorts, a coat, formal pants, and a blazer.
4- V-neck t-shirts for men
V-necks t-shirts for men are an essential, fashionable, and comfortable part of every wardrobe. These t-shirts give you a sharp look when layered with some other items. V-neck t-shirts should never be worn tucked in. Also, you can wear jeans with your white v-neck t-shirt to give a casual look.
Wear khakis with your navy blue V-neck t-shirt to give a stylish look. Over your v-neck tee, add a vivid or striking print.
5- Few other t-shirts
How often you wear T-shirts will determine how many you own. Generally speaking, having 7 to 10 T-shirts will give you various options without packing your closet to the gills. Other types of t-shirts you ought to try include:
Knitted t-shirts.
Long-sleeved t-shirts.
Pastel-coloured tees.
Printed t-shirts.
Striped t-shirts.
Keep a versatile wardrobe on hand!
Jack & Jones is the perfect place to shop for all this versatility and more. Get bowsing now!