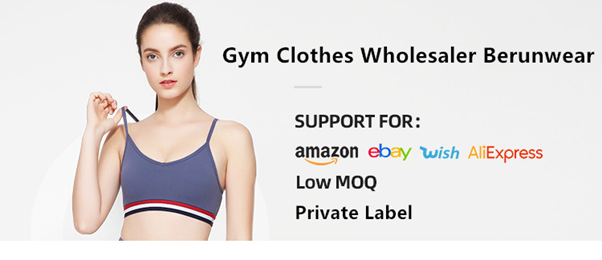 The 2021 clothing trend is wholesaling unbranded gym clothes and labeling them with your own brands and in the end, sell them to customers at a profitable price. So how does the whole procedure work? Here is the answer. I will teach you step by step here to let you know the best way, read on!
Part A: Wholesale Gym Clothes
Step 1: Find A Reliable Gym Clothes Wholesale Supplier
If you want to buy wholesale gym clothing and put a label on the brand, you can look for a wholesaler in the B2B online portal such as the worldwide largest marketplace Alibaba.com. Most clothing suppliers or manufacturers there can operate internationally and can provide you with good quality gym wear.
Or you can just search on Google.com, from there, you also can find a lot of gym clothes wholesale vendors. One of them that can be recommended is Berunwear.com. It's one of the unbranded gym clothing manufacturers locating in China. With more than 15 years of experience, supports private label, white label, and customization services. Though it's a Chinese clothing factory, it can ship wholesale gym wear orders to the whole world. No matter your business is in USA, UK, Canada, or Australia, you can get bulk gym clothing from the sports apparel manufacturer Berunwear compan
I highly recommend this factory because of its full service, low moq, fast lead time and cheaper price. Its lowest MOQ is 50pcs, the wholesale price is $1.69, the fastest turnaround time is 3 days, delivery time is 5 days. The most important thing, Berunwear supports OEM, ODM, and Private Label clothing.
Step 2: Send A Inquiry to the Gym Clothes Wholesaler
After you find one or a list of gym clothes wholesale suppliers, the first thing to do is to contact them directly, by email, or by any other means. They will share you with their minimum order quantity, their clothing catalog, their price level, and their latest clothing styles. In this step, compare the different gym apparel manufacturers, choose 1 or 2 fit your budget and requirement.
Step 3: Design Your Unique Gym Clothing Styles
Notice, the unbranded gym clothes you wholesale from most suppliers or wholesalers or manufacturers, they may be sold to other companies, store owners, teams, or clubs, if you want to be really unique, you should custom your own gym clothing with help from the experienced apparel factory, for example, the Berunwear.com. Unless you are always selling clothes like others, can't get too many sales!
Yes, Berunwear supports gym wear customization, the company can turn your idea into the products and if you can sign a Confidentiality Agreement with Berunwear, your gym wear styles will never be made to others by them!!! To make your own stylish gym clothes, you only need to tell Berunwear your idea about the apparel or send a similar clothing photo, then Berunwear's designers will design for you. You can custom-made the color, the size, the fabrics, and any other details on the clothing, Berunwear can achieve 99%.
Step 4: Confirm the Samples
In this step, gym clothes manufacturers or suppliers will send you reference samples. If you are satisfied with the design and quality, they will tell you the wholesale price, you can negotiate with them to get a better quotation, then send payment, then they will prepare to start the mass production for the bulk gym wear.
Part B: Label the Unbranded Gym Clothes
With the continuous development of the clothing industry and the awakening of brand awareness, many clothing merchants have begun to reposition themselves to find new breakthroughs. Brand approval has become a new marketing model in the clothing wholesale industry. So wholesale unbranded gym clothes aren't the ending, you also should label it and build your brand by selling them.
Step 5: Design Your Brand Logo
If you have a logo, then no need for this step. If you do not, gym clothes wholesaler Berunwear can design for you like they design the apparel. One thing should be mentioned, private label customizing and manufacturing service require a larger MOQ, 200pcs at least.
Step 6: Custom-made Your Unbranded Gym Clothing Private Labels
Clothing private labels include care labels, wash labels, woven labels, and most clothes will have hangtags as well. All of them can be custom-made and manufactured by Berunwear clothing company. Labels, hangtags, and Logos are the important elements to build your brand. Sometimes if you have enough budget, you can get personalized packaging from Berunwear, it's a clothing factory, but not only offer clothing manufacturing.
Step 7: Mass Production on the Clothes and Labels, Hangtags
During manufacturing, all unbranded gym clothes will be stuck with your labels, hangtags, and printed with your logos. Generally, Berunwear will inspect the wholesale gym wear clothes 3 times before shipping to avoid any quality issues or printing mistakes.
Part C: Sell the Gym Clothing Out in Your Store
Step 8: Promote the Private Label Gym Clothes to the Public
When you have new clothes in your store, you would better promote them with some strategies, such as uploading homepage banners, doing advertising, offering a discounted price, and so on. Let more people know your clothes so more people can purchase them.