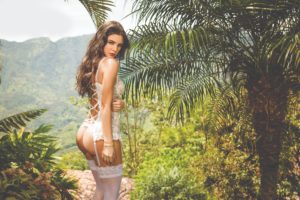 Whenever you look for an erotic and sexy style for your nightwear, then you should dress up with something according to your personality and physique to help you increase your appeal and confidence. Don't hesitate in investing with some premium style from the favorite list of exotic accessories and sexy lingerie that brings up more joy and surprise to you than you could have imagined. 
If you wish to dress in a seductive style, then the first thing to know here is what is your body type! It is important to know what style, color and measurements will suit your body curves in the best possible way to bring out an attractive shape for you. No matter which style you choose, here are some major points that you should consider when buying sexy gowns for you.
Size: Often girls choose gown sizes which are bigger than their actual size. However, in order to arouse your sexy side, you should wear gowns which are short, fit and colorful. In fact, long sleepwear brings an uncomfortable feel to you, especially when you are sitting and moving. Your boyfriend/ spouse would love to see you in an appealing style with something short, sexy and comfortable. So, choose a sexy gown which suits your body size and type. 
Style: Once you have selected the right size for you, it is time to focus on the style which suits your body shape perfectly. Look out on the internet and check the listings of exotic accessories and apparels. There are several options that you deserve to buy. Choose the one you think will look perfect on you and dress in an erotic style in front of your partner.
However, it is important to know the pros and cons of your body. A sexy gown which fits through your hips will bring out the best of slim legs. And, if you have a modest bust, then don't go for gowns which have deep chest, rather choose sexy frocks and lingerie for you. Those who have the perfect figure, they can definitely go for latex apparel as they body fit perfectly to show off your curves.
Color: Go for light color or monochromatic nightwear to have an elegant and lavish feel. If you want to show off your body well, then too many colors will distract your guy.
If you really want to seduce your guy, then choose colors for yourself like black, red, orange etc. to make sure that the atmosphere of the room is better than ever. A luxurious dress with lace is an amazing choice if you wish to dress simple yet sexy. 
Material: Good material like silk, mesh or non-silk are highly recommended for sexy gowns. The better the quality, the higher will be the price. The material should also be considered keeping your comfort level in mind. For intimate nights, latex apparels are good. They will look sexy on you but they aren't too comfortable.
Don't dress up in loose pajamas. Choose good sleepwear keeping maximum comfort in mind.