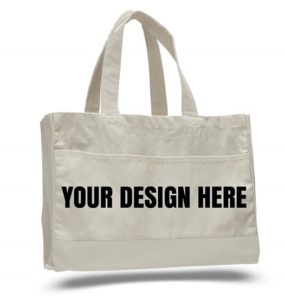 Companies are usually looking for creative ways to promote their brand without breaking their bank. One of the most effective and eco-friendly ways to market your business is by giving away personalized cotton tote bags to your potential and existing clients. These affordable bags are not only functional and reusable but also reflect the environmental-friendly nature of your organization.
No matter in which specific region of the world you're living in, there are China-based cotton bag suppliers that entertain custom orders from around the globe. Take a look at some of the best promotional cotton tote bag options to upscale your marketing strategy:
Cotton Bags with a Logo
There is nothing better than presenting your clients with something that reflects true image of your company. Your company logo is surely a real reflection of your organization. A cotton tote bag topped with your company logo is a sure-fire way to grab your client's attention.
Make sure to select the complementing base color that perfectly matches up with your logo. You can add a few items too in a bag to be used as a token of respect like a customized mug, pen, keychain or a small pouch of chocolate to show your customers you really care.
Embroidered Cotton Tote Bags
Embroidered cotton bags is another great way to add the touch of personalization to your giveaways. Especially if you have a cosmetics company, a brand focusing on fashion apparels and accessories or any product that involves element of art and creativity, you can opt for embroidered custom tote bags to be used as a promotional tool for your company. The best part? Not only these embroidered reusable beauties look stylish but your fashion-loving clients can use them at several other occasions too.
Printed Cotton Tote Bags
Ever thought about giving your clients anything that involves a personal message or a picture on the top? Let's try this on a cotton tote bag you've selected as a giveaway for your next event. Select a set of different messages and get them printed on your favorite cotton tote bags. Your clients will surely be surprised with your creativity.
Plain Cotton Tote Bags with Useful Goodies Inside
If you have handful of individual products to be used as giveaways, plain cotton tote bags can be used as a carrier. You can also include a hand-signed note to show how deeply you care about your clients.
Conclusion
In conclusion, you have to go the extra mile if you're really looking to connect with your clients at an emotional level. These small yet noticeable gestures will portray the positive image of your organization in front of you customers.
Keep in mind, possibilities are endless. A simple cotton tote bag can be customized in a variety of different ways to show how thoughtful and creative your organization is. What other things do you think can go along with the plain cotton tote bag to promote your business? Feel free to drop your suggestions below. We would love to hear back…