Every individual has a unique set of facial features and you need to complement them with different accessories. You must take into account the shape of your face while considering jewelry, especially earrings. The right shape of earrings can flatten your face and highlight the most attractive parts of your face
For a round face, we need earrings which can take away attention from the roundness of your face. Large and circular earring styles can make your face look rounder. So, if you have a gorgeous round face then this blog is for you.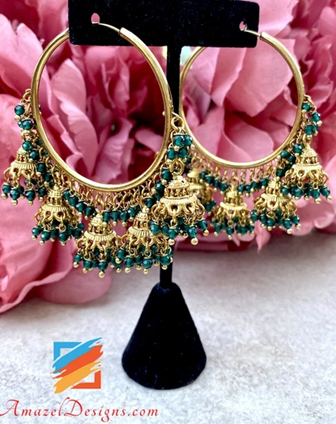 Here are the top 5 types of earrings for round faces-
Long Chandelier Earrings
Chandelier earrings are perfect for a round face. They provide length and dimensions to your face making your face look better. With these earrings, your face looks more elongated and proportional. You can Buy Chandelier Earrings in many designs and sizes. These exquisite earrings take care of everything to ensure that your clothing is put together and makes you stand out from the crowd. Chandelier earrings can be worn to both traditional and formal events. 
Tassel Earrings
One of the most stylish earrings options for round-face women- is Tassel Earrings. They are ideal to get more attention from a crowd. These earrings instantly glam up any outfit they are worn with. Tassels are sleek chains or threads hanging, giving the illusion of a longer face and cutting the roundness of the face. Wear them to night outs, parties or also to a formal event, they look really pretty.  
Small Studs
Wearing large round studs adds roundness to the face whereas small studs in square or triangle shape look very flattering on a round face. You can also wear studs with small hangings giving you a little more length and dimension to your face. You can wear these studs regularly and add some necklaces to these earrings if you are going to an event. Buy Stud Earrings Online and update your collection.
Dangling Earrings
Dangler earrings are chic, sophisticated and fun earrings. If you love drama then these earrings are for you. Dangling earrings usually hang to your neck, providing length to the round face. You don't need to add any other accessory with these earrings to complete the look. Danglers are enough to give you a perfect face by balancing out the roundness of the face. Make sure these earrings are of the perfect length and should not go beyond your shoulders. 
Chandbali
Chandbali Jhumkas are very popular earrings these days. These earrings come in various varieties and no two jhumkas match one another. Meena, stones and gems enhance its beauty and make them the perfect pick for any traditional dress. They are perfect for a round face as they are slim on the top and wider at the bottom giving your face dimensions and making it look less round. 

These were the perfect picks for earrings you must own if you have a round face. These earrings will never let you down and make you look like a queen. To buy these pairs, check Amazel Design's website. We have earrings for every face shape, must check out our collection. We provide worldwide shipping and special offers to our customers in Canada and USA.