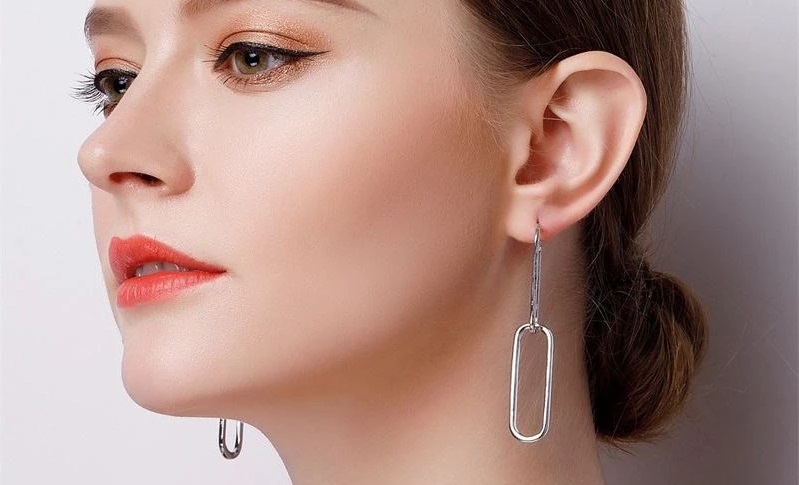 Fashion earrings have taken the world by a storm with more and more women opting for these beauties that give them a new look every day and are easy on the pocket too. You can pick a different pair of earrings every time you change your dress and raise the style quotient of your ensemble. The gamut of earrings for women includes designs and styles for every kind of face, hairstyle, dress, and occasion. Let's give you a peek into the modern earrings design that are trending and are a must-have for every woman aspiring to look super stylish.
These are sported on only one ear and may or may not have a locking mechanism in them. Some ear cuffs are simply perched over the ear while others have a part that passes through the ear lobe while another part rests atop the ear.  You can have a floral motif ear cuff or one with a snake or a dragon figure crafted on it. Ear cuffs look chic and look great with dresses as well as a casual combination of jeans with a blouse.
 Who doesn't love hoops and the bigger the better they are, right? Tie your hair up in a high knot, throw over a pair of ripped jeans, white shirt and you are all set for a lunch date. Skip the jeans and swap it with an LBD but the hoops are what you don't need to change for they will look equally amazing with a dress as they did with the jeans. You can go for classing no-fuss hoops or ones which have some add-ons like pearl hangings.
Every boho style love girl has a pair of these in her bauble box. Tassel earrings are as colorful as they can get and you can pick one for every hue in your wardrobe. These earrings lend a sassy look to the wearer and give a spring vibe to the dress. A tassel earring instantly brightens any outfit, even if it a solid colored dress or top. Make sure you stick to the light, casual, and boho look in your attire when you don these earrings.
Indeed stud earrings have been around longer than you can imagine but that simply takes them to the top of the game and not make them boring. One of the designs in studs that is immensely popular in the fashion world is the double ball design. Studs make a fashion statement ever so subtly when you showcase them well and that involves keeping a hairdo that makes them show.
A new style that seems to have become quite popular is the concept of wearing mismatched earrings. The design of both the earrings in the pair is similar but the style of both is different from each other. So where one of it might be a stud, the other might be a dangler.
If you haven't tried any of these styles yet, its time you go on a shopping spree to make some heads turn, the next time you head out for a party.