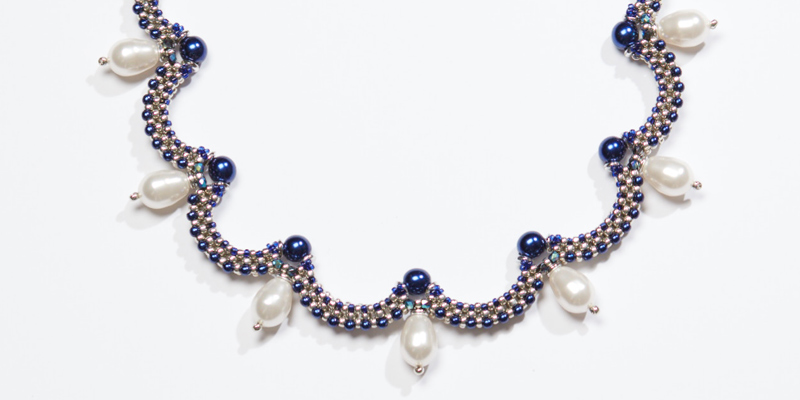 Whatever type of pearl jewelry you wear, and in whichever size, it fills the personality of the wearer with elegance and charm.  Pearl pendant statement necklace is one of the essential accessories that accentuate your appearance.
If you are fond of its appearance but don't have much idea on how to incorporate them in your outfit, then you have come to the right place. As there are tons of styles, designs and colors, we have compiled numerous ways for you to wear them.
Multi-layered pearl necklaces to give a cool chic look
These types of pink pearl necklace look perfect on trendy, casual and dressy outfits. This layered type of statement necklace enhances the appearance of V-neck and collared striped shirt. The design of the necklace balances out the neckline shape.
Add colorful necklaces for a cheerful and brighter look
Pearls come in different colors such as silver, gold, black, pink, lavender, green, etc. You can enliven your personality by wearing statement necklaces with some colorful gem pieces to brighten up your day. For a perfect look, go for settled tones than flashy bright ones.
Monochromatic necklace on colorful outfits
Monochromatic pearl statement necklace is a great addition to your joyful and bright attire. In place of necklaces with colorful components, it is a better idea to go for unicolor or single-color statement necklace on colorful outfits. This one style will keep your clothes look lively throughout the year.
Sparkling pearl statement necklace on your basic clothing
This style of wearing a pearl necklace is sure to give you a stylish look. Wearing this spectacular, feminine and cute statement necklace will give a spectacular look to your entire personality.
This design is best suited for a professional look. This decent yet stylish designed outfit will get you a long of gazes and compliments from whomever you meet or work with every day.
Conclusion
A jewelry piece that comprises of pearl statement necklace is seen as one of the best gifts to the most special women in your life. These are some of the best ways to add pearl jewelry to your own outfit to showcase your creativity, signature style and personality.