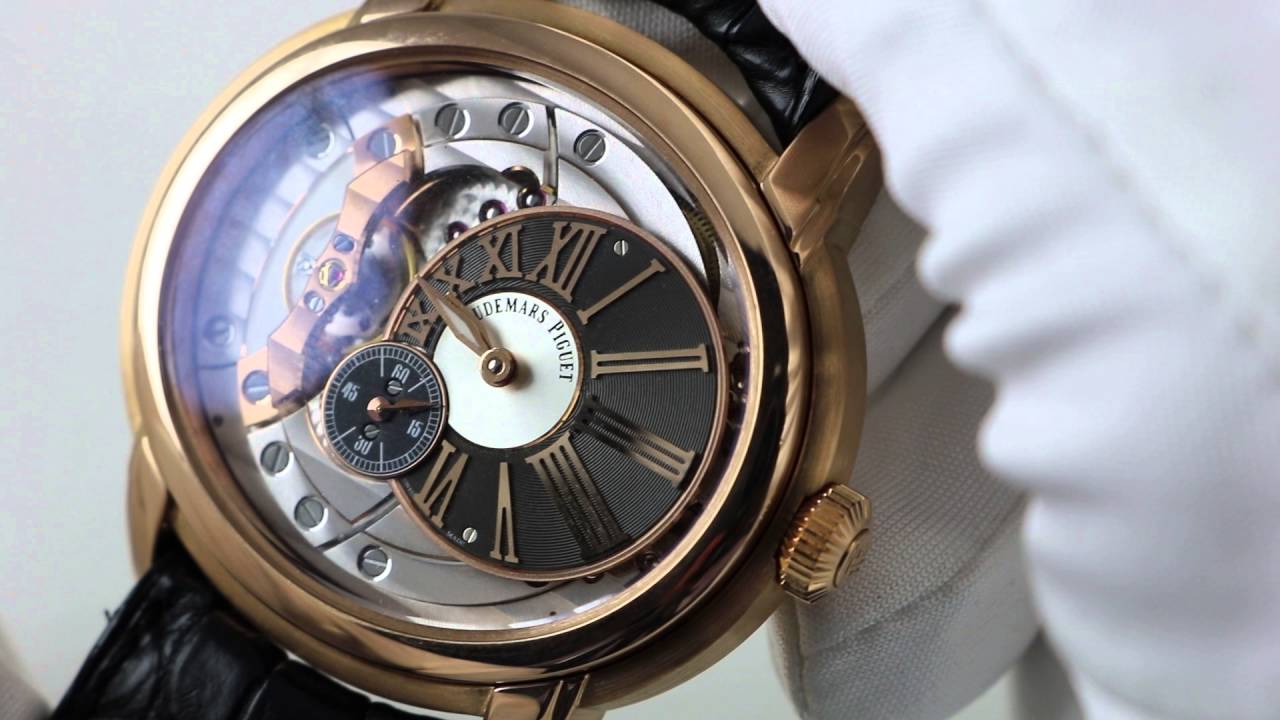 The unusual oval shape of the watches in the Millenary collection is a statement in itself. Launched in 1995, this collection is a canvas for creativity with offbeat models that embrace contemporary design and technical savoir-faire.
The 2015 addition to the collection signals an evolution of this unique approach. It challenges perceptions of what women's watch design can be today.
Case
When it comes to Audemars Piguet (AP), the Royal Oak line is the first model that comes to mind for many watch enthusiasts. This is no bad thing, as the Royal Oak line is the epitome of fine watchmaking. But for those looking to step away from the well-beaten path, AP's Millenary series offers impeccable craftsmanship and a unique design aesthetic.
Millenary watches showcase an oval case shape, which is a departure from the circular and octagonal designs associated with the Royal Oak and Royal Oak Offshore models. As a result, the Millenary line has garnered a loyal following among those who appreciate a watch that is both striking and unique.
The Millenary collection offers a wide variety of complications, including perpetual calendars, dual time displays, and tourbillons. Additionally, a few of the watches in this series are available with a minute repeater—an intricate horological feature that is perfect for those who value precision and reliability.
One of the most impressive complication pieces in the Millenary collection is the Star Wheel 25898ST, which pairs an out-of-this-world astronomical complication with a remarkable slender oval case. With only 125 pieces made, this special steel limited edition is sure to impress any watch enthusiast.
For those who prefer a more casual look, the Millenary Pianoforte offers an elegant design that combines a sleek case with a diamond-set bezel and lugs. This unique combination of style and substance makes the Pianoforte a true standout in the Audemars Piguet lineup.
As a brand that values excellence, Audemars Piguet has also taken great strides to produce some of the most innovative women's watches in the industry. The 2015 Millenary for Women collection is an example of this. Featuring a stunning mother-of-pearl or opal dial and diamond-set bezels and lugs, the Millenary for Women collection is a tribute to feminine power.
Another remarkable aspect of the Audemars Piguet Millenary collection is its range of case finishes. The Frosted Gold finish, which is created through a process of ancient gold hammering, is found on a few of the watches in this collection and is truly a sight to behold. In addition to the lustrous Frosted Gold finish, the Millenary collection also features a number of other interesting finishing techniques.
Dial
One of the key reasons why Audemars Piguet watches are so coveted is their unique dials. Whether it's the off-center dial of the Millenary Escape or the sleek, black dial of the Audemars Piguet Promesse, these watches are instantly eye-catching. Their unique designs offer a modern twist on traditional watch aesthetics, while also ensuring that the timepiece is accurate and reliable.
The dial on the Audemars Piguet Millenary Escape is a masterpiece in itself, thanks to its clean lines and elegant design. The main display takes up less than 50% of the dial, with roman numerals and a subdial that displays dead beat small seconds at the 7 o'clock position. Its skeletonized movement is also highly visible, allowing you to see how the watch works inside and out.
Another feature of the dial is its frosted gold finish, which is a new technique introduced by AP last year. The process involves using a diamond-tipped tool to create tiny indentations on the surface of the gold, which then sparkles and shimmers like snow. This special finishing was first seen on the Royal Oak, and it has now been applied to the lugs, bezel, and case of the Millenary Escape.
This is just one example of the many ways that the brand's artisans put their skills to work in creating a stunning watch. It can take a team of skilled engineers a few days to several months to fully decorate, finish, and test a single watch. The result is a timeless piece of jewelry that will never go out of style and is sure to impress anyone who sees it.
In addition to the exquisite details on the dial, the Audemars Piguet Millenary collection also includes a number of highly complicated watches. Some of these feature complex movements and complications, such as a tourbillon chronograph or linear perpetual calendar. Others have more intricate openworked movements that leave viewers mesmerized. The Audemars Piguet Millenary Minute Repeater, for instance, is a truly remarkable watch that can relay the time acoustically.
Whether you're looking for an Audemars Piguet watch to add to your collection or are in the market for a new timepiece, the Millenary collection is worth considering. Its distinct oval shape, off-center dial, and exceptional craftsmanship set it apart from other luxury watches. And with the variety of options available in this collection, there's something for every horological connoisseur.
Movement
The skeletonized movement in an Audemars Piguet Millenary is truly mesmerizing. It demonstrates the brand's commitment to both the artisanal arts of watchmaking as well as technical expertise. The Cotes de Geneve radial brushed pattern finish and the layers of polished and skeletonized parts create a circus of shadows and highlights that is utterly mesmerizing to behold.
It's easy to understand why this is a favorite of many collectors and enthusiasts. Unlike some other luxury skeleton watches, the Millenary movement is completely open to showcase the complex mechanics inside of the watch. This allows you to see the beautiful balance wheel moving through its paces and doing what it does best – tell time.
The Millenary is also often used for more complicated models, which makes it an ideal choice for those who want to combine beauty with precision timekeeping. One such model is the Millenary Minute Repeater, which features a unique and eye-catching Aventurine dial crafted in 17th century Venice. This gorgeous material was once made from black copper oxide and cobalt during the glass-making process, and it is now crafted into an intricate starry sky pattern that's sure to catch your eye.
With its elliptical case and off-center dial, the Millenary is the perfect example of the balance created when modern design meets traditional craftsmanship. This fusion of aesthetics is most clearly displayed by the new caliber 4101, which is a testament to the Manufacture's mastery of the decorative arts, such as guilloche, enameling, marquetry and engraving.
In addition to the beauty of its exterior, the Millenary is also known for its fine finishing and impeccable craftsmanship. The 18-karat gold cases and bracelets are reminiscent of jewelry and could easily stand on their own as a piece of art. In fact, some AP fans prefer the Millenary to the Royal Oak because it's less of an obvious sports watch and more of a luxury heirloom watch.
While the Millenary is often overshadowed by the Royal Oak (and its myriad Offshore variants), it's a worthy horological stalwart that deserves to be seen and appreciated. Whether you're looking for a luxurious heirloom or an elegant watch to wear every day, the Audemars Piguet Millenary collection has something to offer everyone.
Strap
The watches in the Millenary collection are both self-winding and hand-wound, and they display meticulous finishing with perlage and Geneva stripes. These finishes aren't just a show of skill; they're also a testament to Audemars Piguet's commitment to preserving the tradition of Swiss watchmaking. This attention to detail is reflected in the elegant chamfering of the movement's components.
These finishes add another level of beauty to the watch and showcase how much time and effort goes into every detail. The polished bracelet is also a signature feature of the Millenary collection. It's crafted in the same manner as a traditional Milanese mesh bracelet, except that the gold threads are braided in a right-over-left pattern instead of alternating left and right, giving it a more fluid look.
The bracelet is paired with an alligator strap or a black leather strap with a stainless steel clasp. The watch is also available in a three-piece set with an alligator strap, diamond-set case, and diamond-set lugs. The three-piece set has an 18-karat white or pink gold case and a hand-wound Caliber 5201 movement with hours, minutes, and small seconds.
Unlike the Royal Oak, which is designed to accentuate the wearer's style, the Millenary is designed to stand out on its own. The ovoid case shape and off-centre dial creates a unique design aesthetic that is instantly recognisable. The watches in the Millenary collection are the perfect balance of fine watchmaking and high jewellery savoir-faire.
In 2018, Audemars Piguet introduced three new models to the Millenary collection, including two diamond-set models and a model with an opal dial framed by frosted gold. The new watches also have a scaled-down case size of 39.5 mm, which makes them more wearable for women and those with thinner wrists.
The new watches are also available in a range of color variations, including blue, grey, red, pink, and light green. These bold shades add a touch of sexiness to the watch and allow it to suit a wide variety of styles. The Audemars Piguet Millenary collection is the ultimate choice for women who want to make a statement with their watch.