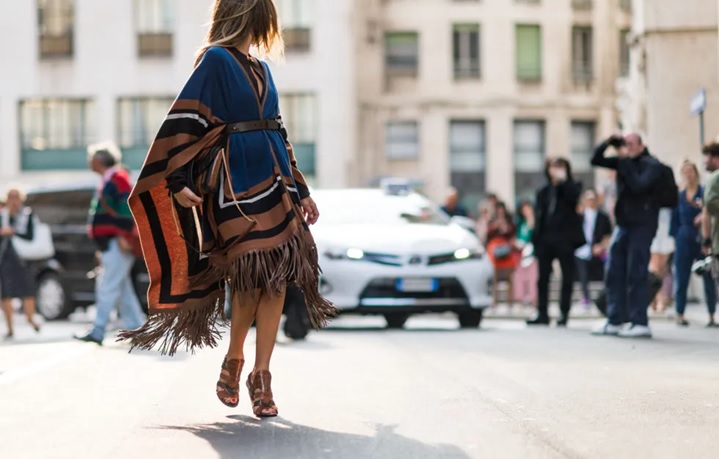 Is it hard for you to keep track of the always changing trends? Are you tired of seeing people wearing the same "trendy" things that completely destroy their personal taste of fashion? Then we have the perfect solution for you: this spring, renew your style by returning to the traditional garments that were worn by our ancestors. These items have stood the test of time so you can be assured that they are made of high-quality fabrics that ensures their longevity and feature beautiful designs that combine both traditional and modern elements so you won't have any trouble wearing them on an everyday basis. Here are a few of them that you can easily incorporate into your wardrobe for the upcoming months.
Poncho
Traditionally worn by the people who live in South America, a poncho can be easily described as a rectangular piece of fabric with a hole for the head in the center. On their continent of origin, they are often worn for special cultural events and festivals. Despite having such a minimalist and simple design, this outdoor wear is an excellent choice for spring as it can offer protection from any weather. Plus, these days they come in a wide range of fabrics and colors so that everyone can find their perfect poncho. If you want a classic look, throw your poncho over any outfit and wear it instead of a jacket, but if you're looking for something more structured, pair it with a belt that will create a beautiful hourglass body shape.
Irish leather bags
Irish handbags made of leather are highly-appreciated not only for their traditional design with earthy tones and Celtic motifs but also for their durability and sturdiness. By getting such an accessory today you're sure to use it for many years to come and everytime it gets signs of being worn up it will in fact become more and more attractive and vintage-looking. What better way to dress up your outfit than with a small Irish leather bag that will fit all your necessities while also looking chic. Combine it with a timeless black and white outfit for an effortlessly stylish look or go extra with a chunky sweater and some leather shorts worn with a pair of knee high boots that will create an outfit that surely won't go unnoticed.
Raglan sweater
A true beauty created by the English officer FitzRoy Somerset, the Raglan sweater is a garment that you might've not heard of before, but you have surely seen it many times. At the first glance, this garment might look like any other jumper that you can find in the mass-market stores but all its beauty is hidden in the details. The name was applied only to the style of the sleeve that seems to run diagonally from the hand to the front of the chest and that was much more comfortable and easy for the officer to use while on the battlefield, hence the first reason to add it to your wardrobe. Additionally, it is made of soft and lightweight wool and features voluminous knit patterns that make it look way better than any other jumper. To make it the star of the show, pair the sweater with some neutral bottoms, for example some high waisted straight-leg jeans, classic Converse shoes, and a backpack.