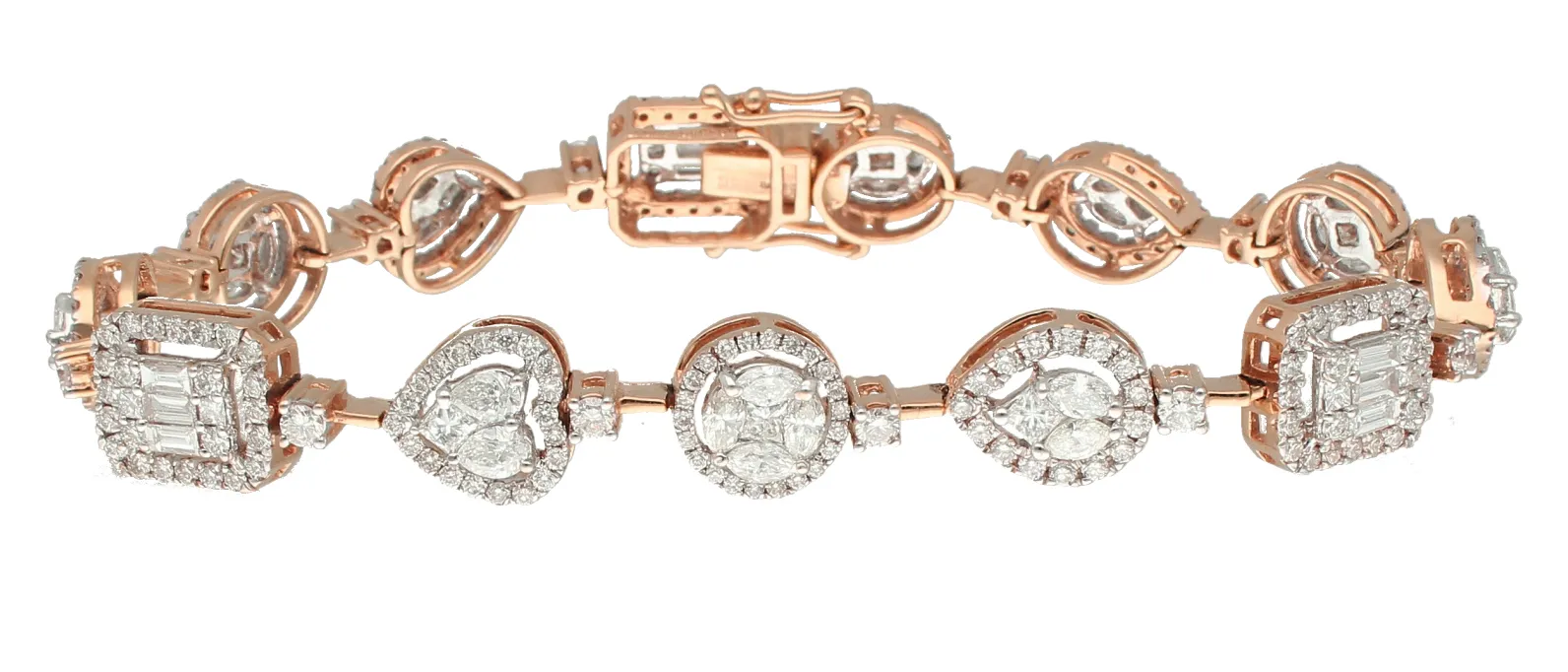 Tennis bracelets are an iconic piece of jewellery with a long and storied history. They rose to prominence in the 1980s when tennis star Chris Evert famously had her diamond bracelet break during a match at the US Open, which eventually sparked an international trend of wearing diamond bracelets.
Today, tennis bracelets are still going strong! Whether you're looking for something classic and timeless or something with a bit more modern flair, there's sure to be the perfect bracelet out there for you. And don't worry if your style doesn't quite match up to Chris Evert's sparkly standard! These days, there are plenty of materials available for tennis bracelets, from diamonds and sapphires to more affordable alternatives like CZ or turquoise.
Plus, there's a wide range of designs that can give you just the right accent without breaking your budget.
Different Types of Setting for Tennis Bracelets
A tennis bracelet is made up of small gemstones arranged in a row that can be connected with metal links. Traditionally, diamonds are the stones of choice, though other precious or semi-precious gems like rubies and sapphires can be used as well.
The beauty of these classic pieces lies in their simplicity: the diamond or gemstone details add just enough sparkle to make them stand out, without being too flashy.
Tennis bracelets often come in a variety of metal settings as well.
Prong
The Prong setting is probably the most traditional option when it comes to tennis bracelets. Prongs hold each diamond in place individually, allowing lots of light to pass through creating a stunning sparkle. Prong settings can even accommodate smaller diamonds and gemstones, which makes them a great option for a more subtle look.
Channel
Channel settings are slightly more contemporary and often feature multiple rows of diamond simulants or precious stones, held in place with narrow bars of metal on either side – similar to the Prong setting but without all the extra prongs. The stones are placed closer together, creating a totally seamless look and plenty of shine.
Bezel
Finally, the Bezel or Half Bezel setting is perfect if you're looking for something a bit more daring. As opposed to Prong and Channel settings, with Bezel and Half Bezel settings the diamonds are encased in metal, giving the bracelet a unique, edgy look. Plus, because of its thicker metal band, it is also more secure and less likely to snag or catch on fabric.
When it comes to choosing your tennis bracelet setting, Prong, Channel and Bezel (or Half Bezel) are all excellent options – each with their own unique advantages.
Style Ideas for Tennis Bracelets
Tennis bracelets are a great way to add some sparkle and pzazz to your wardrobe. Whether you're looking to dress up an outfit for a special occasion or just want to make a statement, these timeless pieces will always be in style. Here are some style ideas for rocking your tennis bracelet:
Boho Chic
Layer your tennis bracelet with some delicate bangles and cuffs for a boho-inspired look. Add a few rings for extra texture, then top it all off with dainty earrings for a truly unique ensemble.
Rock 'n' Roll Glam
Make an edgy statement by pairing your tennis bracelet with larger, bolder pieces. Layer it with chunky chain necklaces, stacked rings, and some dramatic earrings for a glam rock look that will turn heads.
Dainty Delight
For a daintier take on the tennis bracelet, opt for one that features small diamonds or gemstones scattered throughout. Mixing it with multiple delicate pieces, like a thin chain necklace and subtle earrings, will create an eye-catching look without being too flashy.
Classic Elegance
A classic tennis bracelet goes a long way! You can never go wrong with this timeless piece. Wear it solo for an understated elegance or pair it with a simple necklace for a more formal look.
Modern Mix
Create an unexpected combo by mixing multiple bracelets of varying shapes, sizes, and textures. From gold bangles to beaded styles, there's no limit to the possibilities!
Sparkle & Shine
A diamond-encrusted tennis bracelet will bring out the inner diva in you! Perfect for formal occasions, this glamorous look will be sure to turn heads.
Tennis Bracelet Lover
If one isn't enough, why not layer a few different styles together? From chevron designs to diamond-studded bands, the combinations are endless. Add some sparkly earrings to complete the look.
No matter which style you choose, a tennis bracelet is sure to add some sparkle and shine to your ensemble! Whether you're looking for something classic or modern, there's something for everyone. So put on your favourite bling and get ready to make a statement. Shine on!